Richie Powers - One Year Later
---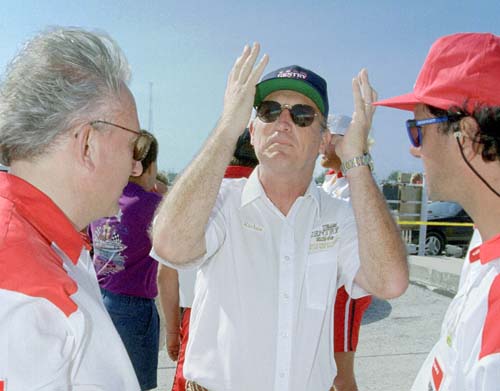 Richie Powers (center) of Hollywood, Fla., gestures to Italian throttleman Fabio Buzzi (left) and Daniel Scioli (right) as he explains how the Team Gentry race boat he was throttling flipped during the 1994 Key West World Championship.
---
Photo and Article By Andy Newman
KEY WEST - Despite a close brush with death at last November's world championship, Hollywood resident Richie Powers is prepared to return to the world of high-speed, bone-jarring offshore powerboat racing.
Actually, Powers was ready seven months ago at the beginning of the 1995 racing year. But as the season-ending, Key West World Championship is taking place this week, he has yet to find the right racing team needing a veteran throttleman with 30 years of experience punctuated by seven world championship titles.
Of course, some people might consider Powers insane to come back to the sport that almost took his life on the 10th lap of last year's final championship heat.
With Powers and Honolulu real estate developer Tom Gentry at the helm of Team Gentry, the 40-foot Skater catamaran entered turn #3 in Key West harbor closely following two other boats. Gentry attempted to pass the first, a Japanese entry, to the left but quickly ran out of room. Moving to the right, at the turn, Gentry had to execute a quick left maneuver to maintain course. As the boat came around, it hooked and flipped over, submerging both men.
"It was an extremely panicky situation," Powers, 49, remembered. "When that thing went over, there was no oxygen. It was just instant submersion.
"It's like one minute you're walking, breathing, talking and the next thing you're under water and didn't even have a chance to gasp for breath."
Harnessed in his seat, upside-down and disoriented, Powers tried to remain calm and focus on previous training for extradition from enclosed cockpit canopies.
"I opened the hatch, undid my seat belt and that's when all hell broke loose," he said. "The life jacket I was wearing just pinned me to the floor of the boat. So I'm floundering around and got tangled up underneath the dash. Then I got my wits and realized I had to grab some oxygen, because I wasn't going to get out."
Fabricated from the same Lexan molds as Air Force F-16 fighter jet shrouds, many race boats are equipped with canopies to protect against critical injuries in the event of a 100 mph-plus accident. But canopies also can provide significant challenges for crew escape following a roll-over. To help sustain life, most canopy-equipped boats carry emergency oxygen. Gentry's boat had two sources for each crew member including a built-in system with a SCUBA regulator and a small, backup air cylinder.
"I started thinking about Allyson and Samantha, my wife and little girl," Powers recalled. "I grabbed the spare (backup) air, tried to put it in my mouth, but the protective dust cover was still on."
Still floundering, Powers discarded the cylinder and again attempted to get out. But despite the struggle, he could not counteract the life jacket's buoyancy which kept him pinned to the floor of the boat, now above him.
"I had to breathe," he said. "I took one breath of salt water. I thought to myself it's unbelievable, I'm breathing underwater."
With hands and arms flailing, Powers suddenly grabbed an object that felt familiar.
"It's like God handed me the regulator," he said, referring to the breathing apparatus from the boat's permanent air supply. "Thank God, the oxygen was on and everything was working. With the last breath I had, I cleared the regulator and just sat there. Everything was fine."
Soon after, rescue diver Jonathan Nuta came to Powers' aid, helped disconnect lines that fed coolant to his race suit and guided him to the surface.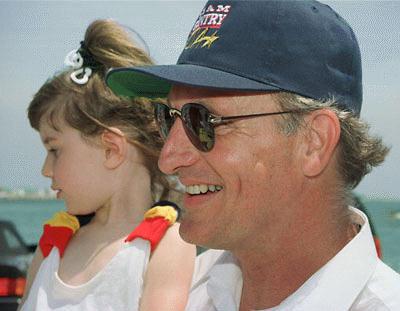 Powers returned to his hotel, checked out and departed Key West by car. Gentry, 65, was not as fortunate and was taken to Lower Florida Keys Health System hospital. Later he was transferred by air ambulance to Miami's Cedars Medical Center in critical condition.
"I think Tom experienced the same thing I did," said Powers, adding that Gentry did not suffer any impact-oriented injuries. "For some reason, he didn't have the mind to go for the regulator. He tried to get out, but I guess he ran out of time."
Almost a year after the accident, Gentry remains comatose in his home under medical supervision. Family members continue to be hopeful about opportunities for recovery, pointing to small positive signs that may indicate improvement.
Powers said he has put the mishap behind him, although there is "not a day goes by that I don't think of Tom.
"Everybody has to understand that racing most of my life has been my way of living," he stressed. "That's what I do best. If you lug it (the accident) along, then you're in trouble. You have to move on."
Presently, Powers works as a consultant helping boat purchasers negotiate the best deal with manufacturers. He longs to return to offshore racing, but only on his own terms.
"I don't want to just jump in a boat for the hell of jumping in boats," he said, discarding prospects who want him for a one- or two-race stand. "That doesn't turn me on and frankly you couldn't pay me enough on a race-to-race basis to make it worthwhile. How much can you charge for the possibility of risking your life?"
Powers desires a long-term relationship with a team willing to commit for a three to five years. He said if such an opportunity presents itself, he is ready to climb back in a boat in time for this year's Super Boat Racing/American Power Boat Association multi-sanctioned world championship. If not, he'll wait for that right offer, but has returned to Key West for race week with his wife and daughter. Although he is primarily here to renew acquaintances and relax, he has also traded a racing helmet for a microphone as a volunteer broadcast analyst for a local radio station.
"I'm trying to psyche my brain right now to accept it (not race) and have a nice vacation," he said. "It's been my life for so many years and I've been so much a part of it. To miss Key West is fairly traumatic."
---
Copyright (C) 1995 Andy Newman, all rights reserved. No reproduction or redistribution of these materials without the written permission of Andy Newman
---
Back to the Key West Pages
Back to the Offshore Powerboat Racing Homepage