World Championship Offshore Racers to Remember Fallen Comrade
---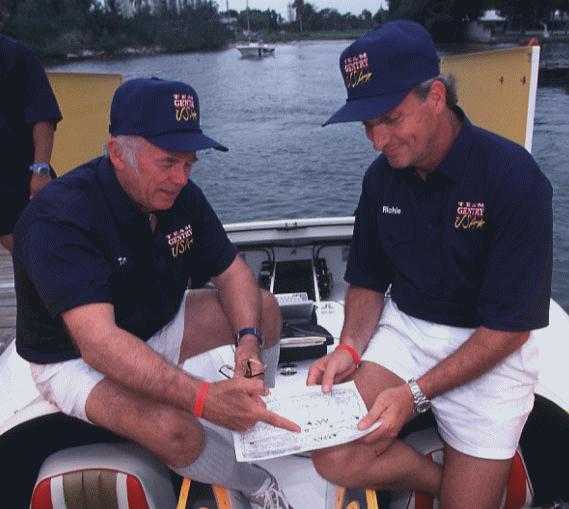 Tom Gentry (Left) and Richie Powers (Right) - Photo Courtesy Andy Newman
---
KEY WEST, Florida Keys -- Hawaiian real estate developer and offshore powerboat racer Tom Gentry, who remains comatose following an accident at the 1994 world championship, is to be remembered by racers participating in this year's Nov. 5-12 Key West World Championship.

Decals, featuring Gentry's #9 insignia and the inscription "Tom we're thinking about you," are to be provided to all race boats, according to race director John Carbonell, president of Super Boat Racing (SBR) Inc. SBR and the American Power Boat Association (APBA) are the event's sanctioning bodies. "Tom was a fierce competitor on the offshore circuit and I am sure he is taking that same approach in attempting to come out of the coma," Carbonell said. "We want to send a message that he is still on the top of our minds and in our prayers."

Gentry's accident came on the 10th lap of the final race. With Hollywood, Fla., racer Richie Powers at the throttles of Team Gentry, the 40-foot Skater catamaran entered turn #3 in Key West Harbor closely following two other boats. Gentry attempted to pass the first, a Japanese entry, on the left, but quickly ran out of room. Moving to the right, at the turn, Gentry had to execute a quick left maneuver to maintain course. As the boat came around, it hooked and flipped over, submerging both men. Powers emerged from the incident unharmed, but Gentry was not breathing when rescue divers pulled him from the boat several minutes later. Medics began aggressive life-saving techniques and transferred him to Florida Keys Health System hospital. He was subsequently moved to Miami and later to facilities in Honolulu.

Today, according to family spokeswoman Tammie Beckstead, Gentry is in his Honolulu home accompanied by appropriate medical equipment and care. "Tom continues to fight and to show that he is brave and strong," said Kiana Gentry, Tom Gentry's wife. "We are seeing little miracles each day. Thank you for your prayers and support."
---
"Tom we're thinking about you," - The Crew of the Offshore Page
---
Back to the Key West Page
Back to the Offshore Powerboat Racing Homepage